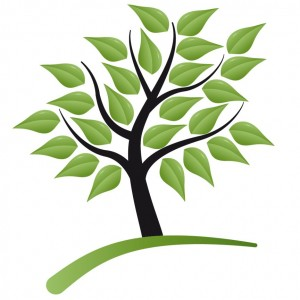 Home Page Menu
---
Last Modified on:

Matthew D. Friend © 2013
Lower Fairview Cemetery (a.k.a Church of the Brethren Cemetry)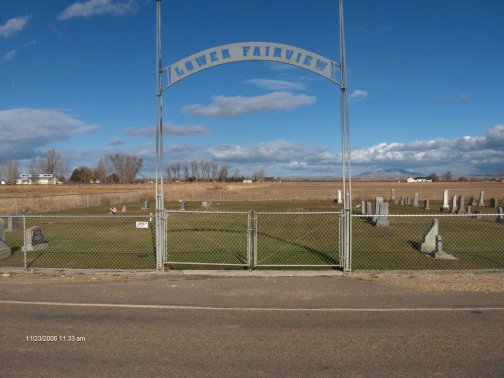 Lower Fairview Cemetery
W. McMillan Road
Near Star, Idaho
Lower Fairview Cemetery used to be known as the Church of the Brethern Cemetery. This church is located about 1/4 mile west of the cemetery, at the intersection of McMillan and Star Road.
Click here for a photo tour of this quiet cemetery.
If you have any information about these persons, we would love to add it to our page. This includes obituaries, photos, family information, or your contact email address. We will also link to your family history webpage. Send your information to the Ada County Coordinator.
Lower Fairview Cemetery is a Cemetery is located at latitude - longitude coordinates (also known as lat-long or GPS coordinates) of N 43.64908 and W -116.49096. Fairview Cemetery is shown in the center of the topographic (topo) map, which is sourced from the United States Geographical Survey map USGS Star quad. The nearest major town is Nampa, ID.
Direction to Lower Fairview Cemetery from Boise City, Idaho
Start Point: Boise City, ID
Head southeast on I-184 E -- 0.2 mi
Take the 1st left onto S 13th St -- 404 ft
Turn left onto I-184 W -- 4.1 mi
Keep left at the fork, follow signs for I-84 W/Nampa/Ontario and merge onto I-84 -- 11.3 mi
Take exit 38 for Interstate 84/Idaho Center Boulevard toward Garrity Boulevard -- 0.4 mi
Turn right onto N Idaho Center Blvd -- 1.3 mi
Continue onto N Can-Ada Rd -- 2.0 mi
Turn right onto Elm Ln/W McMillan Rd. Continue to follow W McMillan Rd. Destination will be on the left -- 1.1 mi
End Point: Fairview Cemetery -- Ada, ID
Burials, Obituaries, Photos, Other Family Information
Many of these graves appear to be arranged in family groups. To view this cemetery along
Row 1 East End, Beginning on the South Side

1. Tafoya, Angela Michelle 9 Apr 1974-18 Jul 1006
2. Allen, Thomas O. 'Tom' 9 July 1946 - 11 Feb 1995
3. Allen, Frances V. 1923 -
4. Allen, R. Wendell 1920-1988 Married 17 Nov 1942
5. Weisbrod, Carolyn Flory 25 DEc 1931 - 21 Feb 1987


6. Schwisow, Dora 2 Dec 1913 - 1 Jun 1986
7. Schwisow, Ed 3 Mar 1912 - 30 Nov 1996 Married 25 Oct 1935
8. Marschman, Lorene K. 12 Mar 1914
9. Marschman, Roy F. 19 Apr 1910 - 14 Jun 1988 Married 19 Feb 1936

Row 2

1. Siedel, Mabel 1914-1931
2. Creason, Bessie O. 1897 - 1995
3. Creason, Cleo C. 1910 - 1963
4. Lee, Dennis D. 10 Apr 1969 - 12 Oct 1982 Son of Connie & Burnell
5. Balch, Paul 1881 - 1953


6. Swan, Martha I 19 Oct 1902 - 31 Oct 1975
7. Starr, Robert Lloyd 1946 - 1983
8. Anchustegui, Janie Marie 8 Feb 1951 - 15 Nov 1996
9. Anchustegui, Felix 26 Oct 1943


Row 3

under the tree, two stones, one broken, No dates on either one, click on names to see photos.
Baby Daly
Beth Hadley


Row 4

1. Smith, Winfield Kenneth 13 Sep 1900 - 27 Mar 1988
2. Smith, Chester H 24 Apr 1926 - 12 Jul 1944
3. Troxel, Sam 1889 - 1974
4. Troxel, Rev Joseph 1859 - 1933
5. Troxel, Mary 1858 - 1925
6. Troxel, Bertha 1899 - 1918
7. Sharp, Dwight R. 1944 - 1981
8. Renner, Zella 24 Feb 1907 - 6 Jan 1993
9. Renner, Earl A. 9 Jan 1905 - 22 Oct 1998 Married 2 Apr 1924


10. Renner, Roy James 1 Dec 1923 (Baby Stone)
11. Lindsay, Cora Lindsay Ross 1879 - 1915
12. Lindsay, W. Byron 1877 - 1919
13. Leppert, Jacob Henry 26 May 1895 - 27 Apr 1962
14. Leppert, Nellie Uretta 21 May 1895 - 30 Dec 1984
15. Price, Peggy Ellen 21 May 1948 - 3 Oct 1974
16. Price, Nellie L. 14 Jun 1917 - 22 Nov 1992
17. Leppert, Jacob Wesley 3 Jun 1919 - 1 Dec 1993


Row 5

1. Yant, Isaiah 1854 - 1935
2. Yant, Emily 1859 - 1931
3. Yant, Daniel M. 1895 - 1910
4. Dix, Roseanna Wife of DW Harrell 3 Sep 1868 - 18 May 1927
5. Harrell, David W. 1858 - 1942
6. Harrell, Fred James 15 May 1891 - 24 Feb 1971 WWI
7. Harrell, Ada F. 1 Apr 1897 - 25 Jun 1990
8. Engelhardt, Jean Betts 9 Dec 1917 - 16 Feb 1973
9. Engelhardt, Lawrence P. 12 Feb 1907 - 6 Jul 1966
10. Betts, Archie Landon 30 Apr 1896 - 31 Aug 1930


11. Betts, Minnie Grace 7 Aug 1894 - 31 Aug 1930
12. Betts, Virginia Ann 25 Jun 1929 - 19 Dec 1929
13. McHan, Mary E. 15 Dec 1830 - 4 Mar 1914
14. Hutsell, William A. 3 Sep 1872 - 3 Aug 1915
15. Carl, Earl G. 13 Mar 1899 - 20 Mar 1974 WWI & WWII
16. Keener, Lucinda 1847 - 1929
17. Keener, John 1840 - 1922
18. Carl, Virginia Sarah 1910 - 1939 Wife of Ben E. Ramsey
19. Weathers, Lillian P. 1901 - 1952
20. Carl, George 2 Aug 1878 - 18 Apr 1940


Row 6

1. Kiester Doramus, Betty Hope 13 Apr 1925 - 26 Jul 1980
2. Kiester, Russell W. 18 Jan 1921 -
3. Kiester Merkey, Edith Mae 19 Sep 1925 -
4. Brockus, V. STella 21 Aug 1891 - 2 Feb 1979
5. Brockus, Russell 21 Feb 1893 - 28 May 1980 Marr 3 Nov 1912
6. Carlson, Carl W. 1886 - 1965
7. Carlson, Clara G. 1879 - 1956
8. Carlson, Walter Wiedoff 1918 - 1934 "Brother"
9. Burri, Geneva 1896 - 1920
10. Yoder, Fanny E. 1874 - 1937
11. Burri, Lewis Franklin 5 May 1919 - 14 Nov 1997
12. Yoder, Joseph H. 1871 - 1927


13. Yoder, Gideon J. 1843 - 1930
14. De Coursey, Inft Son of Mr & Mrs T M De Coursey 3 Jul 1910 - 2 Aug 1910
15. Rhodes, Lois 11 Oct 1907 - 26 Oct 1978
16. De Coursey, Frank J. 22 Mar 1893 - 17 Aug 1978
17. De Coursey, Ottie G. 7 Nov 1892 - 14 Oct 1988 Marr 28 Oct 1913
18. Ruth, Emma N. 23 Dec 1878 - 22 Jul 1912
19. De Coursey, Helen E. 5 Feb 1855 - 15 Dec 1914
20. De Coursey, Leonard 4 Oct 1854 - 8 Apr 1938
21. De Coursey, Grover H. 12 Feb 1885 - 19 Mar 1947
22. De Coursey, Lora E. 1891 - 1960
23. Weaver Twins, David, Mary 1918


Row 7

1. Flory, Rosella Pearl 22 Sep 1904 - 30 Mar 1977
2. Flory, Clarence Earl 25 Jun 1901 - 20 Apr 1996 Wed 27 May 1926
3. Flory, Roy D. 30 Mar 1899 - 22 Oct 1931
4. Flory, George W. 10 Jan 1862 - 1 Jan 1958
5. Flory, Ida B. 22 Jun 1868 - 8 Dec 1916 Wife of GW Flory
6. Brown, Joseph Melvin 6 Aug 1922 - 7 Aug 1922
7. Brown, Mildred M. 24 Oct 1924 -
8. Brown, Blaine E. 6 May 1918 - 22 Aug 1992 Marr 24 May 1943


9. Lamb, Romaine E. 1857 - 1931
10. Lamb, Louisa 1860 - 1948
11. Rupert, Ira Clair 1908 - 1909
12. Kinney, Norman R. 1909 - 1911
13. Kinney, Howard H. 1912
14. Kinney, Marion L. 1-8 May 1918
15. Sandy, Richard 11-12 Dec 1917 1 Day
16. Sandy, Loy 1890 - 1969
17. Sandy, Gertrude 1890 - 1976 Married 14 Oct 1916


Row 8

1. Gosvenor, Lenora 13 Jun 1890 - 4 Apr 1971
2. Gosvenor, William H. 1 Sep 1887 - 2 Jan 1952
3. Spielman, Annie 1859 - 1958
4. Creason, Louis J. 1858 - 1930
5. Creason, Mary V. 1862 - 1940
6. Creason, Ralph E. 1893 - 1976
7. Creason, Harry R. 1884 - 1951
8. Creason, Henry C. 1855 - 1933
9. Peterson, Robert J. 16 Aug 1893 - 28 Nov 1914
10. Creason, John B. 29 Oct 1847 - 26 Oct 1863
11. Fuehrer, V. Louise 17 Dec 1917 -
12. Fuehrer, Albert M 24 Apr 1914 - Marr 27 Dec 1941
13. Brockus, Loyd Samuel 29 Jul 1913 - 14 Jan 1914


14. Flory, Jennie S Brower 15 Jan 1866 - 18 Feb 1946
15. Brower, S.F. 13 Feb 1863 - 9 May 1913
16. Steward, Evelyn Lorene 6 Apr 1919 - 31 May 1922
17. Polley, Aurora T. 17 Aug 1923 - 30 Jan 2004
18. Polley, Marion C. 3 May 1915 - 24 JUul 2001
19. Waite, Grace P. 26 Mar 1893 - 30 May 1909 Daughter of C.E. & F.A.
20. Jacobs, Lola G. 1890 - 1941 Mother
21. Jacobs, Frances P. 1921 - 1938 Daughter
22. Waite, Frances A. 1853 - 1939
23. Waite, Charles E. 1858 - 1931
24. Dunn, Dorothy G. Died 1914 Daughter of A.A. & M.E. In alley between Row 8 & Row 9, near the Polley and Waite graves
25. Swan, Glenn Oren B & D 19 Oct 1924


Row 9

1. Harrell, Mary-Frances 20 Mar 1921 - 12 Nov 1921
2. Sandy, Ruth 22 Oct 1901 - 29 Sep 1973
3. Sandy, Elmer H. 1899 - 1927
4. Sandy, Ruben H. 1850 - 1907
5. Sandy, Kate V. 1895 - 1927
6. Sandy, Emory Rands 1918 - 1934
7. Rands, Fern 23 Jul 1915 - 12 Nov 1921
8. Creason, Harold F. 9 Feb 1913 - 16 Feb 1983
9. Creason, Faye 23 Jul 1915 - 1 Jul 1997 Marr 12 May 1940
10. Brown, Harold Wayne Died 29 Jun 1923 3 yr 21 days
11. Brown, Mary E. 23 Mar 1856 - 2 Dec 1922
12. Brown, Joseph 2 Oct 1848 - 13 FEb 1910 -
13. Brown, Wardie F. 19 Mar 1887 - 8 Sep 1907


14. Lindsay, Willard F. 1856 - 1939
15. Lindsay, Lydia Ann 1872 - 1944
16. Lindsay, Baby Daughter 10-12 Dec 1909
17. Lindsay, Baby Son 29 Nov 1914
18. Wine, D.K. 7 Feb 1855 - 11 May 1908
19. Wine, Rachel C. 22 Sep 1907 - 16 Aug 1915
20. Jones, Thomas 1 Feb 1868 - 10 Mar 1935
21. Wine, Aaron 16 May 1904 - 24 Oct 1938
22. Jones, Mary C. 21 Jan 1870 - 15 Sep 1957
23. Jones, Homer C. 1879 - 1909 Brother
24. Jones, Edwin F. 1853 - 1917
25. Jones, Sarah M. 1863 - 1928


Row 10

1. Bissett, Infant Daughter of F.J. & B.M. (Old stone, no date)
2. Diuman, Birda M. 15 Jul 1883 - 1 Mar 1908 Wife of Foster J. Bissett
3. Allen, Eli 1839 - 1906
4. Allen, Julia 1843 - 1927
5. Allen, Ralph K. 17 Jan 1894 - 25 Jan 1920
6. Allen, Chester K. 23 Oct 1917 - 5 Oct 1934
7. Allen, Orville 12 Aug 1867 - 8 May 1950 Father
8. Allen, Ella 23 Dec 1869 - 16 Oct 1949 Mother


9. Fry, I. Lucille Allen 20 Sep 1893 - 23 Sep 1979
10. Kreps, Alfred E. 12 Dec 1923 - 22 Jul 1986
11. Stoner, Augusta I. 4 Jan 1875 - 26 Nov 1958
12. Stoner, William 1 Nov 1853 - 10 Jun 1920
13. Stoner, William Samuel 2 Dec 1895 - 4 Feb 1937 Father
14. Miller, Eliza 6 Sep 1831 - 16 Apr 1916
15. Davis, Maggie C. 26 Mar 1863 - 24 Dec 1920 Wife of R.F. Davis


Row 11

1. Attaway, Willis 10 May 1828 - 26 Nov 1907
2. Skeen, Bud 1855 - 1927
3. Skeen, Miley 1863 - 1927
4. Weygandt, Birdy M. 20 Jul 1908 - 31 Jul 1908 Daughter of H & S Weygandt
5. Micholson, Emmajane R. Colby 7 Apr 1943 - 22 Oct 2003
6. Nicholson, Nellie Amelia 26 Apr 1898 - 18 Dec 1991
7. Nick, 'Al' Adolph Emanuel 9 Jun 1916 - 18 Jul 1993


8. Dossett, Virginia 13 Mar 1931 -
9. Dossett, Robert Carl 4 Feb 1928 - 24 Jul 1987
10. Evans, Jacob W. 23 Sep 1879 - 12 Jul 1914
11. Gosvenor, Louis J. 28 Mar 1923 - 30 Jun 1992 US Navy Ret. WWII Korea
12. Gosvenor, Kathryn L. 15 Sep 1922 - 6 Feb 1987 Marr 3 Jun 1948
13. Roll, Richard 1924 - 1994
14. Moser, Lois Arline 19 Jun 1928 - 25 Jun 1995


Row 12

1. Parker, Charles M. 2 Mar 1853 - 5 May 1921
2. Parker, Hannah Mae 25 Sep 1864 - 5 Feb 1934 Mother & Wife
3. Parker, Wm. Harry 7 Mar 1880 - 12 Mar 1957
4. Parker, Bertha M. 28 Oct 1894 - 15 Feb 1989
5. Parker, Roy S. 18 Oct 1888 - 11 Apr 1968
6. Neher, Lily Mae 18 Jul 1902 - 21 Jul 1895
7. Cousins, John Wilson (No Dates)
8. Dossett, George E. 2 Mar 1931 - 26 Mar 2002


9. Esterline, Evelyn G. 3 May 1921 - 17 Sep 1991
10. Price, B.K. 1875 - 1926 11. Visselmeyer, Gilbert L. 1 Apr 1949 - 12 Dec 1969 SFP3 US Navy Vietnam
12. Visselmeyer, Opal M. 17 Nov 1924 -
13. Visselmeyer, Edgar 'E.H.' 30 Apr 1922 - 10 Dec 2001
14. Van Zante, Virgil H. 1924 -
15. Van Zante, Doris J. 1931 - 1997

Other Databases