Patrick Henry Snow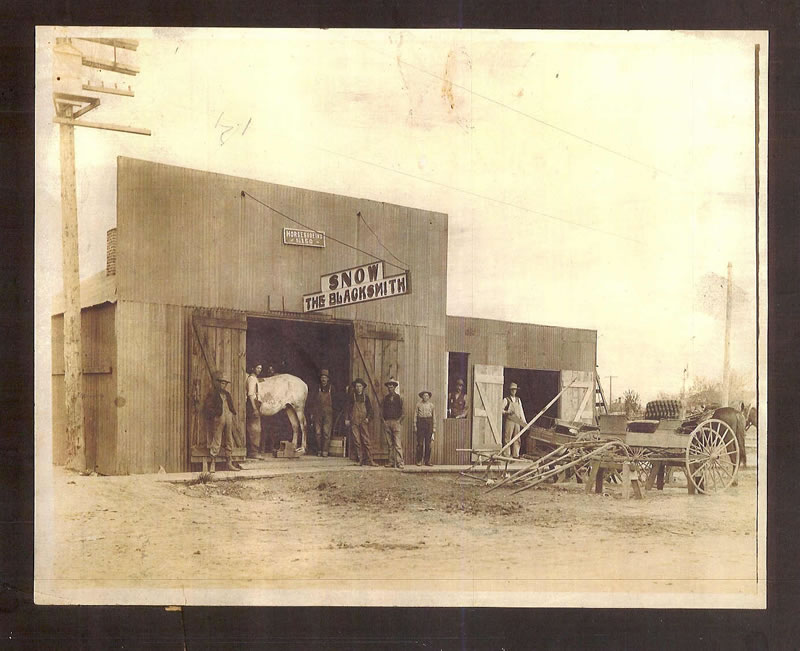 Submitted by: Carl Snow
This was in Meridian, Ada. Co., ID in about 1905 and one of two or three of PH Snow's shops. His bio is below.
HISTORY OF IDAHO, Vol. III Pub. 1920
by S. J. Clarke Publishing Company
HISTORY OF IDAHO, p. 552
PATRICK HENRY SNOW
Patrick Henry Snow, proprietor of the Broadway Carriage & Shoeing Shop, at Boise, where he has been residing since 1897, is a native of Arkansas, born near Berryville, that state, September 8, 1863, a son of William and Margaret (Rodgers) Snow, natives of Pennsylvania, the former of English and the latter of German descent. On the paternal side of the house, Mr. Snow is a descendant of Mayflower and Revolutionary stock, while on the maternal side, his grandfather, John Rodgers, served in the War of 1812.
Patrick H. Snow was reared on his father's farm in Arkansas, where he continued to reside up to the age of sixteen; and then started out to see the country on his own account, going to Texas where he spent three years. At the end of this period, he went to Arizona, remaining in that territory for ten years and going thence to California, where he worked for three and one-half years. In 1897, Mr. Snow left California and came to Boise, where he opened a carriage making and blacksmith shop, having learned these trades with his father. Since coming to Idaho he has lived in Boise, with the exception of nine years spent in Meridian. He has been engaged at the same trades all his life and formerly operated two shops but later gave up one, and started his present place, known as the Broadway Carriage & Shoeing: Shop, in 1917, the trade of this shop having gradually expanded until, at the present time, he is generally recognized as one of the most progressive carriage builders in his part of the state. In addition to his carriage and shoeing business, he is the owner of a small, ranch containing two and one-half acres.
Mr. Snow has been twice married. In 1885 he wedded Julia Anderson, who died in 1915, leaving three sons and three daughters, namely: Ruby; Ethel, wife of J. H. Carroll; Ralph, who is married and living in Portland, engaged in the United States forestry service; Elva A., of Boise; Abbie J., a. student at Leland Stanford University; and Helen, the youngest: a high school student. All of the children but the youngest are graduates of the Boise high school. The two eldest sons, Ralph and Elva, served with the United States army in France during the World war, Elva serving for seventeen months and Ralph for twelve months. Ralph was severely wounded by a flying shell and spent five months in a hospital. As a result of his wound, he became permanently blind in one eye. In 1917 Mr. Snow married for his second wife, Mrs. Lois Cox, of Twin Falls, Idaho.
Mr. Snow is an earnest member of the first Presbyterian church, of which he js an elder. He is an active member of the Independent Order of Odd Fellows, in which he has held various offices, and is also a member of the encampment. He gives his support to the republican party but has never been a seeker after political office, preferring to devote his time to his business interests he has, nevertheless, given of his time and ability to all matters designed to improve and advance the social well being of the community where he makes his home.